COME + LOST MOVIES
Tue, May 23 @ 7:30 pm

-

10:30 pm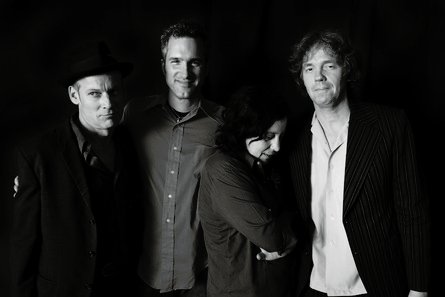 Come is a cult American alternative rock band, formed in Boston by Thalia Zedek (vocals, guitar), Chris Brokaw (guitar, vocals), Arthur Johnson (drums), and Sean O'Brien (bass).
Brokaw and Zedek had been introduced by a mutual friend in Boston shortly before Zedek moved to New York to join legendary noise rockers Live Skull in '86. They stayed in touch, and Brokaw briefly played in Zedek's side project Via before forming the influential slowcore group Codeine.
Zedek and Johnson first met in the fall of 1988 while on tour with their respective bands Live Skull and Bar-B-Q Killers. O'Brien and Johnson were long-time friends and former housemates from the close-knit Athens, GA, music scene of the '80s, where Sean played guitar and then bass in the Kilkenny Cats, and each of their bands was featured in the 1987 documentary Athens, GA–Inside/Out. 1990 found all four musicians living in Boston, and they decided to join forces to see what might happen. The musical chemistry was immediate, and it wasn't long before the band had its first show and a recording offer from Sub Pop.
Come's first release was "Car" b/w "Last Mistake," the August 1991 instalment in the first volume of Sub Pop's Singles Club. The single made them one of the most highly touted new acts on the underground scene, and there was more than one label eager to release the band's first full-length effort. Come chose Matador in the US and Placebo in the UK to put out their debut album Eleven Eleven in 1992. The album was a great success with both critics and fellow musicians, and tours followed with Nirvana, Dinosaur Jr., Sugar, and Pavement, among others. Pitchfork has called it "one of the most elusive gems of the Matador catalog".
After the release, Brokaw left Codeine, devoting himself full-time to Come. Come released their second album, Don't Ask Don't Tell, in 1994, again on Matador and Placebo. It was to be the last album recorded with the rhythm section of Johnson and O'Brien. Though somewhat calmer than its predecessor, it was equally as grave. Among the highlights of the album, and of the whole of the band's impressive song catalogue, are the two dark ballads, "Let's Get Lost" and "Arrive," each closing a side of the vinyl edition. Brokaw and Zedek's emotional dual guitar work rivals Verlaine/Lloyd, chiming and majestic, cascading into feedback-ridden squalls informed by both punk and metal, sifted through one of the tightest rhythm sections ever assembled.
Come's third record, 1996's Near Life Experience, was recorded with two different rhythm sections: Tara Jane O'Neil and Kevin Coultas from the now-legendary Louisville band Rodan, and Chicago's Mac McNeilly (The Jesus Lizard) and Bundy Brown (Tortoise). It was released on Matador in the United States and on Domino in Europe.
The band's final release, 1998's double album Gently, Down the Stream, was again released on Matador/Domino and featured a new rhythm section of Daniel Coughlin on drums and Winston Braman on bass. After extensive touring on the release in both Europe and the States, the band went on hiatus, and both Brokaw and Zedek pursued solo careers and other musical collaborations. In 2010, the original lineup of Brokaw, Johnson, O'Brien, and Zedek reunited to play Matador Records' 21st anniversary celebration in Las Vegas, as well as a sold-out show at TT the Bear's in Boston. The following year they reunited again to play shows in Boston and at the Bell House in Brooklyn. In 2013 Matador's expanded reissue of Eleven Eleven was released, and the original lineup embarked on extensive tours in both Europe and the USA. 2018 saw several more shows, with festival appearances in Athens and Atlanta, GA, and a two-night residency at Brooklyn's Union Pool.
Lost Movies
Lost Movies feature former-members of long-time Essex bands Absent Kid, Warm Winters & Nothing.Existed reuniting with an expanded line-up, new songs and a darker revitalised sound. Influences include The Cure, Manic Street Preachers, Radiohead & Pavement.
"Contagiously awesome stage presence and intricate tunes – not to be missed." – Underground Sound.
Intagram: @lost_movies_
https://www.facebook.com/LostMoviesBand
Twitter: @lost_movies_
Tickets £16 in advance, £18 on the door.
Doors open 7.30pm.
https://www.facebook.com/events/865290408221243/